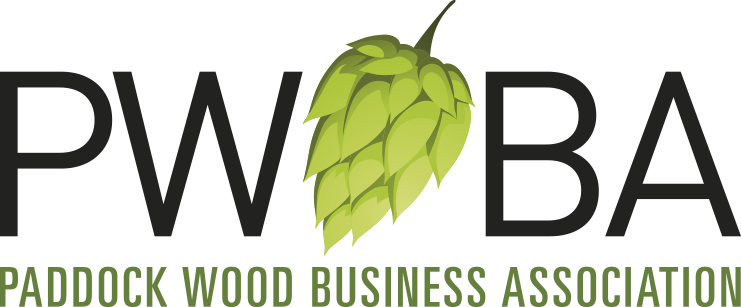 The Paddock Wood Business Association was originally established in 1947 as the Paddock Wood Chamber of Trade.
In October 2009 the name was changed to the Paddock Wood Business Association and since then we have been continually growing in number and working together to support local trade, commerce and industry.
PWBA is a voluntary organisation run by local business people to promote and encourage the development of trade, commerce and industry within our community and also to give local businesses a significant voice on the issues affecting the economic development and sustainability of Paddock Wood.
We are run by a working committee who meet monthly and we also hold full membership meetings regularly, as well as offering a range of networking opportunities, social events and training courses.
Promoting our town
Working together
Building partnerships
Achieving results
Introductions and networking opportunities
New business leads
Free listing on our website
Free entries on our social media sites
Free advertising of job vacancies
Social Events
Guest Speakers
Visits to other members' businesses
Opportunity for joint events and promotions
Share good business practices
Training and business development seminars
Discounts on goods and services
A voice on issues affecting your business
Support and representation
Information on -Town Planning, Community Policing and Security, Local Government initiatives
Barsleys Department Store
16-22, Commercial Road, Paddock Wood, Near Tonbridge, Kent. TN12 6EJ Telephone: 01892 833464 E-mail: mail@barsleys.co.uk Website: www.barsleys.co.uk Barsley's was established in 1891 in Brenchley. It is still run by the third and fourth generation of the Barsleys. We specialise in personal service for fashions and furnishings for all the family and your home. Many people have complimented Barsleys on their updated look which still maintains personal service to customers.
Firefly Homes
Firefly Homes Kent Limited 93 Commercial Road Paddock Wood TN12 6DS 01892 838363 www.firefly-homes.co.uk
House of Portmeirion
Website: https://www.houseofportmeirion.co.uk/
Debbie's Villas
Specialists in Orlando package holidays since 1999! General Enquiries 01892 836822 www.debbiesvillas.co.uk info@debbiesvillas.co.uk
SJM Planning
Founded in 2012, SJM Planning was launched by company director Simon McKay, after completing seven years service as a local authority planning officer. Covering residential extensions and alterations; New build and replacement dwellings; Agriculture, equine and fisheries; Office conversions and HMOs.
Camrass Wills
Camrass Wills gives help and advice with Wills, Powers of Attorney and Probate. Peter Camrass has over 30 years' experience in financial services and 11 years' as an estate planner. Peter is a full member of the Society of Will Writers, the largest self-regulatory trade body within the Will writing profession and an affiliate of STEP. Peter offers home visits around Kent giving quality advice at affordable prices. All fees agreed before you proceed. Contact Peter Camrass on: 01622 720985 Email Peter: petercamrass@gmail.com www.camrasswills.co.uk
The Community Storehouse food bank
The Community Storehouse Foodbank is a Christian initiative, started in 2013, providing food support for anyone in financial need, who is struggling to put food on the table. We are here to help – do come and chat with us. We are open on Tuesdays 13.00 – 15.00 and Thursdays 9.30 – 11.30 at The Wesley Centre, Commercial Road, Paddock Wood, TN12 6DS. Food donations can be placed in collection baskets at Paddock Wood Waitrose or brought to the foodbank during opening hours. Contact – enquiries@communitystorehouse.co.uk (preferable) or mobile: 07582 142948 Website: communitystorehouse.co.uk
The Hop Farm
The Hop Farm, Kent's iconic event venue & award winning campsite. The perfect holiday destination! https://thehopfarm.co.uk
Lucky Paws
Dog Grooming Salon and Boutique in Paddock Wood, Kent. All grooming services offered to all breeds. Lucky Paws Boutique, Unit 4, Clavadel Road, Paddock Wood, Kent, TN12 6EW. Call: 01892 457200 Text: 07368 191059 Email: luckypawsboutique@gmail.com www.luckypawsboutique.co.uk
Berry & Lamberts
Our 270+ year history enables our friendly teams to draw on a wealth of experience to provide dependable legal advice in a relaxed, professional environment. We work as a team with our clients on a full range of business and individual legal matters to help them achieve the results they seek in their professional and personal lives. Get in touch at www.berryandlamberts.co.uk or 01892 833456. 60 Commercial Road Paddock Wood Kent TN12 6DP
Heritage Paddock Wood
Heritage Paddock Wood
An archive of photographs and memorabilia given by a local resident inspired the formation of Heritage Paddock Wood which was formed in January 2018. The group has a base in the Wesley Centre in Commercial Road, the oldest public Victorian building in Paddock Wood, dating back to 1888.  Its aims are to store, preserve and protect historical documents, photographs and artefacts; to provide a cultural and heritage focus and centre in Paddock Wood; to provide a resource base and a range of activities to encourage the well-being of all residents.
Knockout Print
Knockout Print, local print at internet prices! From business cards to banners, brochures to books, branded merchandise and workwear. We have it all covered and under one roof. Support local.  info@knockoutprint.co.uk
The Fair Trade Shop
We have a wide range of beautiful hand-made Fair Trade crafts from around the world. www.fairtradeshopstandrews.co.uk The Fair Trade Shop, St Andrew's Church Maidstone Road Paddock Wood Kent TN12 6DZ 01892 837617
Tax Assist Accountants
TaxAssist Accountants is a locally owned Chartered Accountant firm that is part of a national network covering 80,000 clients. We focus on landlords, sole-traders and small business, and avoid larger complex companies. We are always happy to have a free conversation about tax or accounting issues, or conversion to Xero or Quickbooks. Call on 01732 221 960 to make an appointment or drop in at any time we look free.
Core Commercial Limited
Core Commercial market factories and warehouses across Kent and into Sussex, Surrey and Southeast London www.corecommercial.co.uk 01892 834483
Capel Cottage Nursery
Beautiful cottage garden nursery set in the heart of Kent As we celebrate our 25th anniversary we are proud that our commitment to quality, expert knowledge and friendly, personal service has made us the nursery of choice for locals as well as garden enthusiasts from further afield. 01892 833556 info@capelcottagenursery.co.uk https://capelcottagenursery.co.uk
Bidfood UK
Leading foodservice wholesaler supplying fresh, frozen & ambient food, alcohol and catering essentials. www.bidfood.co.uk
Hendley Removals
Family run removals and storage firm based in Kent. Local, National, Domestic and Commercial moves. Telephone – 01892 837207 Unit 11 Eldon Way Industrial Estate, Paddock Wood, Kent, TN12 6BE www.tunbridgewellsremovals.co.uk
Olivers Fish and Chips
89 Commercial Rd, Paddock Wood, TN12 6DS 01892 832966
Prestige Guarding
Welcome to a Rapid Security Service 24 hours a day - 7 days a week | Covering all of the South East At Prestige Guarding Ltd we promote a dedicated and experienced approach and are proud of our reputation for the quality and effectiveness of our services. Prestige Guarding Ltd, 2 Church Lane, East Peckham, Kent, TN12 5JH TEL: 01622 878 306 MOB: 07860 169 190 http://www.prestigeguarding.co.uk
Paddock Wood Cards
Our shop in Paddock Wood has a wide range of greetings cards, gifts & balloons FOR EVERY OCCASION. We specialise in personalisation take-away same day. Paddock Wood Cards has been established since 2000. www.paddockwoodcards.com
Paddock Wood Community Advice Centre
Paddock Wood Community Advice Centre is a charity offering free advice, information and support to people living in Paddock Wood, Tonbridge, Tunbridge Wells, Maidstone and neighbouring villages. Our offices are at 94 Commercial Road, Paddock Wood, TN12 6DP. We have private, ground floor, accessible rooms where we can discuss your concerns in confidence. We also offer telephone consultations and video calls. We are open Mondays to Fridays 9.30am to 1.30pm. Call us on 01892 838619 or send an email to info@pwadvice.org www.pwadvice.org
Lambert & Foster
Lambert and Foster have been providing professional property services for over 120 years to the local community. As a RICS regulated firm that is also governed by the Property Ombudsmen we hold ourselves to the highest standard of service delivery and professional advice. With 4 regional offices, a large database of people seeking property, access to Right Move and On the Market portals we are very well placed to sell and rent your property. The firm's Registered Valuers are able to undertake valuations for probate, tax and other purposes; whilst the planning and architectural services (provided through Bloomfields Chartered town Planners (www.bloomfieldsltd.co.uk)) mean we can also advise those wishing to expand, reconfigure or change the use of property or land. Our Chartered Surveyors can assist with the negotiation of option and promotion agreements. For all our services visit www.lambertandfoster.co.uk
Paddock Wood and District Lions Club
Ordinary People – Amazing Things We act as a charity, organising many fund raising events like the Paddock Wood Carnival, Annual Duck Race and Santa's Sleigh at Christmas time. https://paddockwoodlions.co.uk 0345 833 9564
The new Paddock Wood Community Centre, opening soon! Large, versatile spaces available for hire for clubs, functions, meetings and groups. Contact- Laura White 01892 487757 office@paddockwoodcc.com for booking enquiries.
Paddock Lodge is a collection of stylish one- and two-bedroom retirement apartments available to buy now. Considerately designed with the over 60s in mind, its privately owned accommodation comes with the benefits of a communal Owners' Lounge, a Guest Suite, a Lodge Manager, and a 24-hour emergency call alarm service.